Weekly Update from HHSC 04 April 2019
Published 12:20 on 6 Apr 2019
This weekend sees the start of the Sailing Season with both racing and RYA Sailing Courses taking place this weekend. It looks to be a busy weekend - fingers crossed for some good sailing conditions!
This week … On & Off the Water

RYA Youth 2/3

This weekend sees the first of our youth sailing course - RYA Youth Stage 2/3. It is taking place Sat 6 Apr, Sun 7 Apr & Sat 13 Apr.

Good Luck to all the young sailors doing this course (and thank you to the team of Instructors and Powerboat Crew)

Sat 6 Apr -

First day of RYA Youth 2/3 course also -

Short Course Racing (1/2/3/4)

Race start 11.30

Lunch & Bar Available

Lunch will be sausage and onions in bread roll and /or home made vegetable soup.

Sun 7 Apr -

Second day of the RYA Youth 2/3 Course, also

Cuckoo Cup 1/2

Race Start 12:00

Haven Working Party

Meet at 9.30

Lunch & Bar Available

Jacket Potatoes with choice of topping (Chilli, Cheese or Beans). Hot Sausage Rolls & Doughnuts also available.

Coming Up ...


Sat 13 Apr

Day 3 of the RYA Youth 2/3 course

Cuckoo Cup (3/4)

Race Start 17:00

Sun 14 Apr

Dinghy Working Party - Meet at 9.30

Dates for Your Diary

Fri 5 Apr Mar 8pm

Bar Open

Sat 6 Apr - 12pm

Race Start 11:30

Lunch & Bar

Sun 7 Apr -12

Race Start 12:00

Lunch & Bar

Weds 10 Apr - 8pm


Bar Open

Fri 12 Apr - 8pm


Bar Open

Sat 13 Apr

Race Start 17:00

Fri 19 Apr

Race Start 11:00

Sat 20 Apr

Race Start 11:30

Sun 21 Apr

Race Start 11:30

Mon 22 Apr

Race Start 12:30
Message From Sailing Commodore
Welcome everyone to the beginning of the season; you know - that time of year when you wonder where all the ropes go when reassembling boats, or why the mice had to chew up your spinnaker to make a nest. It is also the time when you discover that cold winter weather makes wetsuits shrink wherever you stored them.
Despite all that, I hope that you are all in training for the coming season whether you are beginners taking up opportunities on courses, improvers or our competitive members. You can find opportunities for all abilities and our training team is there to offer advice and encouragement.
Thanks must also go to the sailing team behind the scenes who have had the thankless task of allocating duties to fill the missing spaces once the voluntary allocation period ended. WIthout support teams in place for Race Officers and Safety Boat teams - we cannot race. We would like more Race Officers and are happy to run another training course to increase our numbers.
Preparations are also well in hand for this year's Open Day and Push the Boat Out event on SUNDAY 5th MAY. We hope that you will come and support it and encourage friends to come along and try out the activities . Hopefully encouraging people to join. Kayaking starts from 0900 and sailing from 1100 hrs
Keep Calm and Carry on Sailing!
DID YOU SPOT THE ERROR?
Residents of Stubbington may have received a copy of the local magazine "Stubbington Choice". Eagle-eyed observers will have spotted the error in the HHSC advert promoting our Push the Boat Out Event in May. The date should have read SUNDAY 5th May (& not Saturday). The day starts at 9am. Please do all you can to share the correct DAY with your friends, family and acquaintances in the local community.
Recycle!
Club Notices
Socials
The social that was scheduled for the 27th April has had to be cancelled as we now realise that it clashes with 2 sailing events starting at 1730 &1800. May is also a busy month, however, the House team aim to have a social on Friday 17th May. Meanwhile please support your Ladies who Launch on Friday 26th April (Gentlemen are also welcome to these events..!)
Dinghy Park Stickers
A reminder to all outstanding boat, trailer and tender owners to collect their stickers from the club lounge to enable management of your parking spaces.
Golf Clubs!
GOLFERS, please bring your unused irons to the club for recycling - we convert the handle grips to dinghy tiller extensions.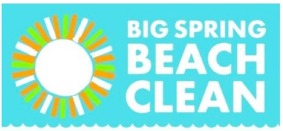 The Big Spring Beach Clean is the UK's biggest beach clean event, mobilising over 30,000 authentic community volunteers at locations nationwide. Let's support our local community and keep our beaches clean!!
Join the team at Meon Shore, Sunday 7 April, 9:30-12pm to be part of this community movement. NB This is a Meon Shore organised public beach clean event (not a HHSC organised event).

They will be meeting on the beach, near the ice cream/ coffee van spot near to the Meon Shore beach chalets. Use the postcode PO14 4HL for sat navs. Everyone is welcome! (well behaved dogs too!)

There will be a few litter pickers, lots of gloves and bags to collect rubbish in. But feel free to bring your own.

The team will be sorting the rubbish and collating the information to help support the demand for a bottle deposit scheme. They'll also be recycling whatever items they can.

A small number of hot refreshments available afterwards, bring your own mug.
HAND HELD VHF RADIOS - A WARNING
On completion of Sea Kayak Leader Training one a scout leaders turned his VHF Radio off, packed up his kit and went for his debrief. Driving to the hotel he could hear an alarm going off. His VHF had turned itself on and started transmitting an automatic distress call. The radio had totally locked out and he had no functionality.
He stopped the car and called the coastguard and they believed that the distress call had not been confirmed or received at that time. Apparently it happens alot with hand helds when they get wet. Even when they are waterproof!!
After eating his evening meal, he went back to his room to find that his radio had once again turned itself on and had transmitted another distress call that had been recieved and acknowledged for 30 minutes! He called the Coastguard, confirmed his details, cancelled the distress call and removed the battery.
The set has been sent back to Standard Horizon and he is waiting to hear what is the issue.